Why do I help people study for the HR certification exams? It's simple. When I get emails like this one I received recently, there's no way I could ever stop.

Wow. So honored to be part of the process people take toward changing their HR careers for the better!
Making a Good Thing Even Better
One of the things I've heard in the last 10+ years that I have been helping people study for the HR certification exams is that they like to study on the go.
When I was studying for my own PHR and SPHR exams back in the dark ages, :-) I had a book I physically carried around with me pretty much everywhere. 5 minutes waiting for a meeting to start? Read. 20 minutes at the doctor's office? Read. 15 minutes waiting on the kids to get out of school for pickup? Read.
And it was hard.
Being as busy as we all are as professionals, there are plenty of times when we could fit in some practice questions, flashcard definitions, and other types of quick study opportnities. Plus, we all know the #1 reason people fail the HR certification exams, right? It's due in part to the fact that they do not use the right types of study resources to prepare.
New HR Study Mobile App
So with all that in mind, our team has been working on creating a new mobile app. Yes, an app! It will be available for iOS and Android devices (potentially even browser access as well from a Windows-based device, we're still testing).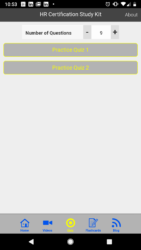 The app isn't designed for deep dives into content. That's what books and our other courses are for.
It's about quick study tips, short quizzes to practice your knowledge, and flashcards to improve memory and recall. If this goes as well as we expect it to, we may create a premium mobile app with 10x the content (practice questions, flashcards, and short video content for tricky topics), but first things first: we have to get this thing launched.
Right now we are beta testing. It's not perfect or complete, but we'd love to have you try it out and give us feedback.
If you are interested in trying it out (we have a free practice quiz, a couple flashcards, and a video with frequently asked questions about certification), the app can be found here for free download: https://app.appinstitute.com/pa1e5
It is browser-based so it should be compatible with both iOS and Android devices.
Additionally, this is a short survey that can be completed in two minutes or less about your experience using the app and what kinds of features might be helpful for you: https://www.surveymonkey.com/r/YT9HFQP
Thanks in advance for your help! This article will be pulled down in a few weeks, so if you want to try it out, now's the time. :-)