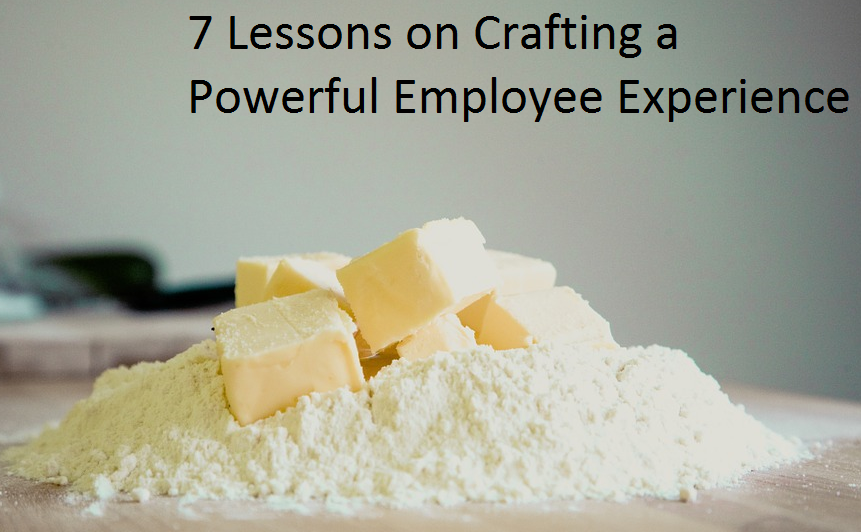 I just finished reading a brand new book called The Employee Experience. It's a great look at the relatively new concept of creating an experience for employees, not just trying to engage them or do some other one-off program that doesn't deliver long-term results.
7 Powerful Lessons on the Employee Experience
1) Congruent customer and employee experiences
I've long said that the customer experience will never exceed the employee experience. Well, what I've actually said is, "Employees will never treat customers better than their management treats them," but it's one and the same. The experiences will be congruent, or similar. That means companies that live and die by customer satisfaction scores need to start not with customer bonuses or other gimmicks but with a positive employee experience.
2) The Employee Experience is not the Employee Life Cycle
One of the issues with someone's initial attempt to grasp the concept of the employee experience is to put it in the context of the employee life cycle. The experience, or how someone feels, is part of the life cycle, but it's not quite the same thing. Don't think that understanding the mechanics of onboarding and performance management means that you have a great employee experience. Instead look at the candidate or employee-centric nature of your processes and see to what extent they support, encourage, and engage your workforce. That's your hint.
3) Tell me about your employees first
If I walked up to you right now and asked about your company, what would you start with? Your products? Your mission? Your customers? What about your employees–would they even make it into the discussion? It's so common to think about this in the context of customers when in reality it's our employees that make us successful. Start with employees and go from there. It will change the perspective of those around you.
4) Expectations rule the day
A big part of why employees have bad experiences in the workplace is because of expectations. Have you ever had high expectations for a raise, performance discussion, or meeting, only to walk away feeling disappointed? The theory of expectancy plays into motivations and how we feel about choices we make. If you want to deliver a poor experience, make sure you give people a warning ahead of time so their expectation gap (what they expect and what you deliver) isn't as large.
5) Companies don't really exist–people do
The trouble with leaders in many organizations is that they view the company as "The Company," an automonous entity that doesn't need to be understood or afforded respect. In this worldview, employees are replacement parts, and we don't have to worry about the feelings of replaceable parts.
People get stuff done, not "the company." People are the face of the firm, not a logo, billboard, or slogan. Remember that.
6) Design thinking for the win
The concept of design thinking centers on this: efforts are spent not just on solving problems, but on creating solutions with the end result in mind. In this case, how can we create ideas that focus not on the organization or on the customer, but on the employee experience. Instead of thinking about how to fix a problem specifically, the focus is on becoming something radically different. For many of us, that's the direction we need to go to rectify design flaws in our processes and policies that can actually hamper our efforts to engage our workers.
7) Scrap the fancy job titles and get to work
I've heard in the last few years about new job titles popping up in the HR space. Chief Culture Officer, Chief Employee Experience Officer, etc. This was also mentioned in the book.
At first I was excited about the idea, but the more I thought about it, I realized that in some cases it was an abdication of responsibility. Think about it–when a task is assigned to someone specifically, everyone else can forget about helping with it and it falls off their list of priorities. That's where I see the challenge in hiring these types of roles or even trying to create that kind of organization. Guiding and shepherding corporate culture isn't one person's job, it's everyone's job. Creating a powerful employee experience isn't just HR's or the C-suite's job, it's everyone's job.
What are your thoughts on the employee experience? After reading some of these ideas, are you creating a great one, or does yours need some work?