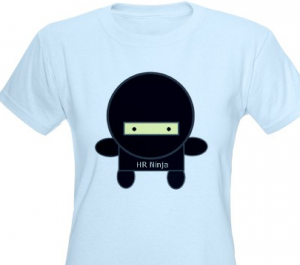 I know the feeling. You're doing your best to look like you know what you're doing with this whole HR thing, but some people just don't understand your ninja prowess.
Let's fix that, shall we?
Click here. Snag a shirt for 35% off (through Thursday, 3/24/11) with the coupon code DEALIO. Wear it proudly.
If you click the blue shirt at the link above you'll see a women's version on the following page if you'd like to get that style instead. You can also send me a picture when you wear the shirt and I'll use it in a blog post!