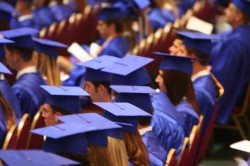 Tomorrow evening I have the pleasure of speaking to a group of local HR students. The problem is I have time to talk on one topic, but I have several in mind! In a perfect world I'd have the chance to come back a few times and expose them to the full realm of knowledge I've picked up over the past few years since my own college days, but this might be the only shot I get. So what's more important?
Topics of choice
Using social media as an HR/recruiting professional (professional development, recruiting, networking, etc.)
What it's like to be a department of one (average day's agenda, importance of alliances, etc.)
What young professionals need to know (how to establish credibility, find work that is meaningful, develop a career plan, etc.)
If you had to rank them in order of importance for what a college student needs to know, how would you do that? I could make a case for each one of them being very important, but my view might be clouded by my own experience and perceptions of the students I will meet.
What advice do you have?
I plan to point them to resources like how to get a job in HR, but beyond that I'm open to advice. Anything you want to share will be plugged during the session, so be as honest as you like!