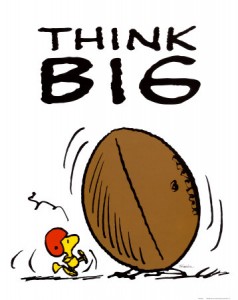 One of our core values at work is "provide innovative solutions that exceed expectations." That might seem like a standard/blah kind of idea, but it plays out in a way that I haven't encountered anywhere else I've worked. We have a "big ideas" database that allows employees to share ideas on anything they think might be valuable to the organization. We've had everything possible posted, from lucrative new product lines to a request for larger garbage bags in the kitchen (seriously!).
Recently the Operations team set up our own database to capture ideas that we might like to implement for our workforce. A few things in our database right now:
Paid volunteer time-Employees at some large companies get paid for volunteer time. I pitched the idea that we could pay for as little as 4 hours for someone to go out, volunteer in some capacity, and do good in the world without breaking the bank on an expensive program.
Adding core values to informal peer recognition-while we already rate people within our formal performance management system based on how they uphold our core values on a daily basis, this would allow the day-to-day recognition on a peer level to also reflect on the handful of tenets that we operate the business by. It's the little things that matter!
Financial literacy training-this is one I hold near and dear to my heart. As a Dave Ramsey fan (baby step #6, baby!) I am already a believer in understanding how personal finance works, but studies show that employees who are stressed are less productive, and there's little in life more stressful than living paycheck-to-paycheck with no retirement savings, emergency fund, or college planning underway.
Enough about us! What are your "big" ideas? Again, it can be something as simple as "bigger trash bags" if that's what is truly needed and there's no other easy way to get the issue resolved, but you can also shoot for the moon. Think big!