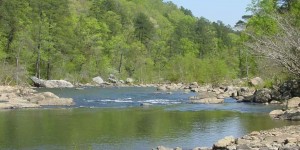 Yesterday I returned from a short getaway and jumped straight back into work. However, I had some interesting thoughts and definitely wanted to share them since when I talk to you guys about issues you're facing, they're usually issues I'm facing as well.
The importance of unplugging
Last Saturday I ran in a relay race with the Pinnacle Pounders (the running group I work with, or the working group I run with, whichever way you want to look at it). I think we ended up covering about 27-28 miles each, and it was just a fun, exciting experience. Afterward Melanie and I took off for a few days for some much-needed R&R. It felt wonderful to just kick back, relax, and forget everything for a while. We took our phones to keep in contact for emergencies, but otherwise we just used them to snap photos of the wildlife as we enjoyed the scenic hikes around Little River Canyon.
I came back refreshed and energized, and it sometimes takes a total removal from the normal routine to get that spark back that you've been missing.
Paring down your life
In the past few months I've had to start pulling back on some of the things I do outside of work and life. Last year I wasn't able to give as much time to HRevolution, and I felt like I was missing out on things at work due to so many priorities. So I dropped some. I had to resign as the chair of the YP Advisory Council for SHRM. I had to tell the great folks at SHRM Alabama that I couldn't join the board this year. I had to tell our local NASHRM chapter president that my role was going to be severely minimized for 2012 and possibly beyond that.
Why? Because I realized that it was becoming a drag and a burden to keep juggling all the tasks, and I never felt like any of them were getting my best. Plus with my 19 month old twin girls getting more active, it is more fun spending time at home than at board meetings. Now I feel much better about the effort I'm giving at work and at home, and it's more fulfilling overall.
Focusing your effort
One of the first blog posts I ever wrote (before I started this one!) was about focus. I talked about the power of light in terms of a laser and a flashlight. Both of them get the respective job done, but in totally different ways. A flashlight is used to focus on multiple things, while a laser's concentrated intensity has incredible power. If you're really looking to make an impact on something, decide whether you're going to be a laser (high impact with visible results) or a flashlight (just scanning as your're passing by).
Put it in perspective
What you do is a small part of who you are–mental, spiritual, physical, financial, and a lot of other things factor into that. Sometimes it is easy to forget that everyone has the same 168 hours per week to do what they need to do. Sometimes I find myself comparing my life or results to those of others. For instance, the people out there last weekend running 50+ miles by themselves. I was marveling at their ability, but then I thought to myself that IÂ wouldn't trade what I have for what they have. Their priorities involve different things than mine, and that's okay.
Today was a random, jumbled bunch of ideas, but it needed to get out of my head! Look forward to the regular programming (a high-falutin' word for blog posts, eh?) starting back next week!