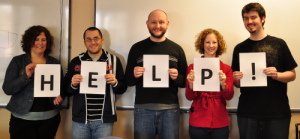 I've been working on a post on small HR departments for a while now, and a reminder this past Monday is going to help me finish it once and for all. However, I need a little help so I can finish up that post.
One of the ladies in my SHRM chapter mentoring group (the same one who made the dress and read for the job you want quote) asked a great question that HR people everywhere should have a quick answer for–when you are looking for specific, targeted information, where do you go?
Do you visit a website, ask a person, or open a book? It's different for everyone, and I'd like to know what your answer is.
Now I'm not talking about everyday reading. This lady is trying to create new policies and start programs and procedures from scratch and is doing heavy research to find answers.
My suggestion (I didn't get to share it during the meeting, darn it) is to build and develop a support network of people. Twitter's been a valuable tool in that regard for me. I'm able to find answers to a lot of questions within just a few minutes, but it's taken me a long time to build up to the follower size I have.
Other suggestions from the group were SHRM, HR Hero, former company handbooks, etc. I'd add HR Net (run by Steve Browne), Google, and blogs to that list as potential resources.
If you have a problem/question, where do you turn?