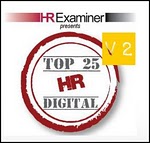 I recently found out that I made the list of the top 25 digital influencers in the online HR space. Pretty cool, and I'm humbled to be among such esteemed company.
But some of you might wonder what it takes to be a top digital influencer. Here's my own secret recipe for how to make it happen.
Invest 5+ hours a week writing blog posts, responding to comments, and dreaming up new ideas
Guest blog for anyone who will let you near their site
Decide that one blog isn't enough and start another one
Write like you speak
Not being afraid to look silly on camera
Plan an HR event gets get the attention of hundreds of people
Collaborate with anyone and everyone (and their pets, just to cover all the bases)
Start a social media mentoring program
Anything else is just gravy!
Seriously, it's neat to think that I've been able to do this kind of stuff in such a short period of time. Having this opportunity has been one of the most amazing things in my life and career thus far. Thanks to everyone for their support! Looking forward to what the future holds.