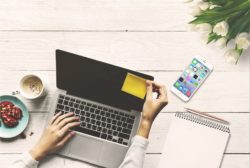 Have you ever wondered of going partly or fully remote? While there are certain indisputable benefits associated with hiring remote employees, they will also come at a cost with a set of their own unique challenges. The biggest challenge of all is that of managing a remote team. Hereinbelow, we'll address the common differences between remote and in-house employees and how it all relates to human resources and recruitment.
Differences between in-house and remote teams: benefits and limitations
Let's break down the differences between virtual and in-house teams first before we delve deeper into the recruitment realm. There are fundamental differences between in-house and remote workers, both in how you hire, onboard, and manage your employees. Hiring them would obviously involve online audio or video sessions and tests; onboarding would probably be emailing back and forth and having chat and video calls; and managing is, perhaps, the most difficult part of all, since you won't be able to directly interact with your employees, but rather hope for their own self-discipline and honesty to report back to you in a timely fashion. Nevertheless, you still can employ various managerial techniques to your remote staff to ensure the work's done in time, but more on it later.
There are numerous benefits associated with hiring remote staff: first of all, according to the researchers from Stanford University, remote workers are 13% more effective than their office counterparts; secondly, freelancers save companies up to $7,000 a year; and thirdly, by going completely remote, organizations have a fantastic potential of saving up to $11,000 per employee annually. With the advancement in modern technologies, more and more companies, including large corporations, like Google and Apple, realize the power of remote work. For example, two in five work groups in Google include employees in more than one location, and Apple's At-Home Advisers provide customer service to Apple's customers from the comfort of their own homes. So, if you have been doubtful of going fully or partly remote, there's nothing to worry about anymore: plenty of successful examples, including our own business at Soshace, confirms the major premise that remote work offers numerous advantages. Â 
In-house HR or freelance recruiters?
In-house HR and freelance recruiters have a different set of skills and work differently. Remote recruiters are generally very sales-oriented and thus, tend to be more productive. They sell their services to both candidates and companies. Now, the conditions that you offer your freelancers may vary, but usually, you pay them a monthly allowance plus added bonuses on top for successfully hiring each candidate or a percentage of the newly hired employee's salary.
You might argue that you are already doing the same thing with your in-house HR, but, again, freelance recruiters tend to be more productive, efficient, and faster. HR departments are more focused on long-term goals, striving to fill multiple positions, and keeping an employee turnover to the minimum, but freelancers are fast, salesy, goal-oriented, almost always ambitious and enthusiastic.
Now characters and other variables might vary, but in-house employees tend to be more meticulous and cautious in their hiring decisions, rather than freelancers. Also, freelance recruiters tend to specialize in a particular area, like say, web development, or software engineering. Thus, you won't spend much time educating your freelancers, because they already know what you're looking for.
Challenges in managing remote HR teams
However, managing remote teams comes with other challenges, which you should be aware of before even thinking of going remotely. Let's outline a few of those common issues often faced by employers before we advise on how to tackle each of them.
The biggest and the most obvious challenge is in communication, which especially exacerbates if your freelancer is in a different time zone. Without being able to communicate face-to-face, you'll need to fully rely on technology; thus, ensure your freelancers have a back-up plan in case of outages. Another important aspect of a communication problem is the transmission of information in a timely fashion. When your employee is out of sight, out of mind, it's easy to get lost in your daily duties and forget to inform your freelancer about the upcoming changes or policies, therefore it's important to be always in touch whenever you receive critical information that would affect your freelancers' work.
Another challenge is of tracking: tracking your employees' performance, productivity, and working hours. Thankfully, the tracking issues can now all be solved with modern apps like hubstaff (which we personally use at Soshace), CRMs, and good old-fashioned Skype chat and video calls, where you check up with employees by asking relevant questions and requesting any additional information.
Another thing is that of company culture. Whereas in the office, establishing organizational trust and culture seems easy: establish a Friday routine of getting out to bars to solve regular pub quizzes, celebrate birthdays, congratulate on special occasions, and so on. Even if you have not been aware of that before, you can do all of those same things online. We're not talking of pub quizzes in a pub per se, but you can do quizzes, book or debate clubs online just as easily.
Tips on how to organize remote recruiters
There are quite a few tips and strategies that can help you establish mutual trust between your employees and organize your remote teams, be it recruiters' or anyone else.
Tips #1 It's vital to stay in touch on a daily basis to keep the team together
The first advice is to always keep in touch with your co-workers. Arrange Skype (any other app of your choice) meetings with all your team members to inform them of any changes that are about to happen. Even if there are no changes to be informed of or report about, just schedule regular calls, say, every morning, and ask questions about previous day's results, plans, challenges and problems your employees faced, or anything else that concerns you.
Tips #2 All-heads meetings are important to share views on common problems
If you have several departments in your company, it's important to have regular meetings between them all to ensure everyone knows the goals and mission of the company, and that everyone follows into the steps of common company's objectives. Â While maintaining a regular meeting, ask for everyone's opinions on their current progress, as well as their concerns about their daily responsibilities and anything else that might raise their questions.
Tips #3 All staff problems are discussed at one-on-one meetings. This way a manager listens more closely and ready to look for solutions
Whenever you're concerned with someone else's performance, ask this person for a one-on-one conversation where you can address any issues that concern you, or that you see as inapplicable or unsatisfactory in terms of performance or communication. Never address those issues during your team's regular meetings unless you mention them briefly. Then during a private conversation go deeper, ask questions, try to understand the person's behavior, help your employee tackle challenges and do everything else possible to help them address and solve those issues by themselves.
Tips #4 Set goals for each manager and control them every other day to prevent mistakes
Setting goals is important. But what also important is to check on those goals regularly. From our own experience, we recommend setting short-term and long-term goals, which you're encouraged to check on a regular basis. Short-term goals are better to be checked within two days from setting them and long-term – in a month of establishing monthly goals.
Tips #5 All achievements must be acknowledged
Many employers disregard acknowledging their employees' achievements, and we truly believe that's not the best way to treat your employees and make them feel wanted and appreciated. All people expect something in return for the services they perform or the benefits they bring to the organization. And money is not always enough, because as the saying goes, you can't buy happiness; rather, try to acknowledge and appreciate their progress, no matter how small initially it may seem to you.
Conclusion
Whatever business structure you choose, either remote or in-house, both of those types of employees require acknowledgment, self-respect, appreciation, control, and supervision. Transfer information in a timely fashion, conduct regular meetings, check on your employees' progress, even if daily, and never stop learning from both your own manager and your subordinates.
Author: Marina Vorontsova is a copywriter at Soshace.com, a hiring platform for web developers: hire a developer or apply for a remote job.