Sometimes you'll run across articles that discuss managing vs. leadership, and the gist of many is that you don't need managers if you have great leaders.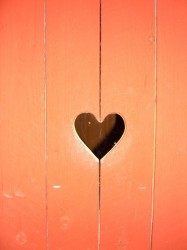 I don't know if I believe that.
See, I'm one of those people with a strong entrepreneurial spirit, and I really don't like having a boss. I like figuring out things for myself, working in areas that interest me, etc. However, I have to bottle that up and be a little more focused when it comes to the day job, and the great boss I had was the perfect person to help me do that in a constructive way.
Naturally, when she retired last year, I was devastated.
I (still) heart my boss
I just finished working for a truly amazing boss, and I can't help but tell people about her. The list of characteristics that make her a team favorite are many, but here are a few that really had an impact on me:
She focused on the team's needs and on the professional development of its members much more than her own interests.
She was quick to say, "I'm not your manager, I'm your teammate." She never played the "I'm the boss, so do what I say" card.
She worked harder than anyone I've ever seen, and she demanded high performance from the team she led as well.
She could deliver tough feedback in a way that made you want to do better instead of feeling bitter and resentful.
She listened in order to understand where you wanted to go in your career and directed assignments that would assist in the growth of those key areas.
After several years working in positions where I was unchallenged and underutilized (that's a long story in itself!), I flourished under her management style.
While being conscious not to sound like a suck up, I would tell her as often as possible how appreciative of her I was. And, as usual, she would reflect it back on her staff for being great contributors and dedicated to the mission of the organization. Whether she allowed herself to admit that she was great at her job or not, she never once fell back on that as a crutch to stop managing well.
I've had varying levels of bad bosses over the years, but she truly was the very best that I've ever encountered. I can't say enough about how much I appreciate her support at such a critical juncture in my career.
To all the great managers out there, thank you for what you do!
Ever worked for an awesome boss? Tell us about it in the comments below!