Did you know that research shows diversity training doesn't create better environments for people of color in the workplace? (HBR) That's partly due to the fact that these programs spend time telling people how to avoid legal trouble, not how to actively understand, support and encourage these individuals that bring value, insight, and perspective to the business.
What if we could change that?
Later this month I have the distinct honor to participate in an event that's trying to help make strides in this direction. George Rogers and I will be co-moderating the Antiracism Forum put on by PeopleStrategy in conjunction with the National Association for African Americans in HR. I am honored to have a front row seat to the conversations with an amazing array of experts to learn and grow alongside the audience.
Do I expect to be comfortable? No.
Do I think it's going to have an impact and help change the world for the better? Yes. Yes I do.
Side note: if you don't have the pleasure of already knowing George Rogers who will be moderating the event with me, he's an amazing leader and professional. I am thrilled to be able to share the virtual stage with him.
If this sounds interesting, click here to register for free. You can also read on below for what to expect from this special event.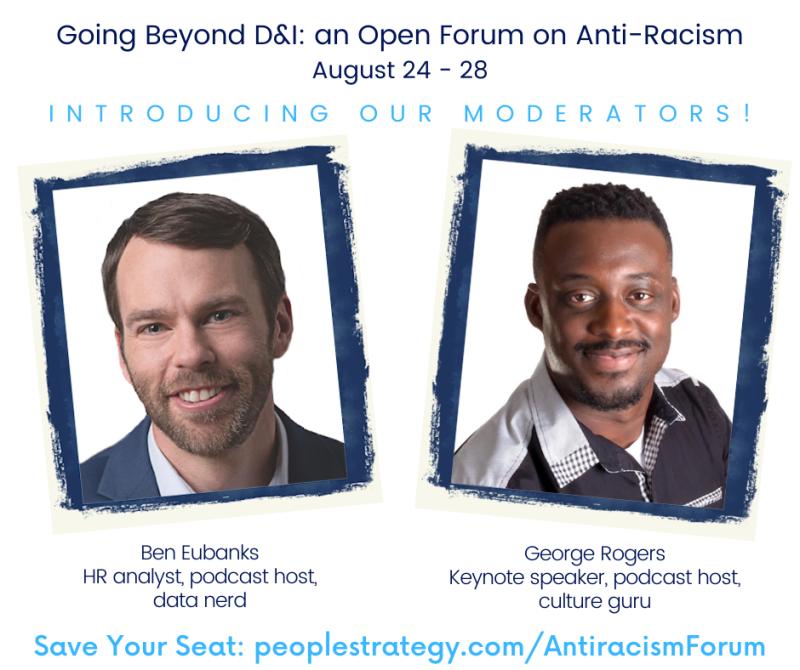 Just like we know that there's value in having diverse individuals in a group to add perspective and insight, we know that making a change has to be a group effort.
Each day of the event, George and I will be facilitating panel discussions around key issues that we need to get right from an employment perspective: culture, hiring, development, and more. It's our goal to push past the comfortable boundaries of diversity to the uncomfortable conversations of racism and equality. It's not enough to claim support. It's time to act.
We have a series of world-class speakers, teachers, and practitioners ready to contribute their expertise. Some of the confirmed panelists include:
Chaveso Cook, US Army Major, mentoring expert, and doctoral student at Tufts University
Sarah Morgan, HR professional, inclusion advocate, and founder of the upcoming HROI Summit
Jon Walton, expert in multicultural leadership development and veteran change transformation leader
Lakisha Brooks, Chief People Officer, training and coaching expert
Stephen Paskoff, Esq., an expert on workplace legal issues and culture/leadership change
Click here to register for free.
One last thing: please feel free to invite your team. Bring your managers. Make it a requirement for your executive leadership. Invite your peers.
So many of you are likely putting together diversity training, and as I mentioned to start this article, that is unlikely to lead to any substantive change. That's not an indictment on you–that's a function of how we learn as humans. You could use this forum as the curriculum for your own development program around racial justice. For instance, have your team join for the discussions with you, then debrief together afterward to see how the concepts tie in with your culture, your people, and their unique needs.
This is an active conversation, not a passive one.  Together we can work to change the conversation.