Today's question is about HR consultant jobs and whether they are a good career move. 
Note: I LOVE to get questions from readers (just like the one below). If you have a question you'd like to ask here or on the podcast, please send it to questions AT upstarthr.com or record a short voice note here anonymously: https://upstarthr.com/question
See other reader questions here. Today's question is about HR consultant jobs and whether they are a good career move for someone who is trying to break into HR. 
I have been working in a retail job and want to get into HR. Are HR consulting jobs a good idea for me? I have my degree and want to take the certification exam when I can. 
Luis
Good News and Bad News
Hi Luis! Thanks so much for the question. Let's dive into a few aspects of this because it's not an easy yes/no answer when it comes to HR consultant jobs. 
I'll start with the tough news: if you're working in retail and have not been in HR yet, it's going to be very difficult to jump right into consulting. There are a few reasons, like the fact that 80% of what you learn about HR happens on the job, not in a classroom.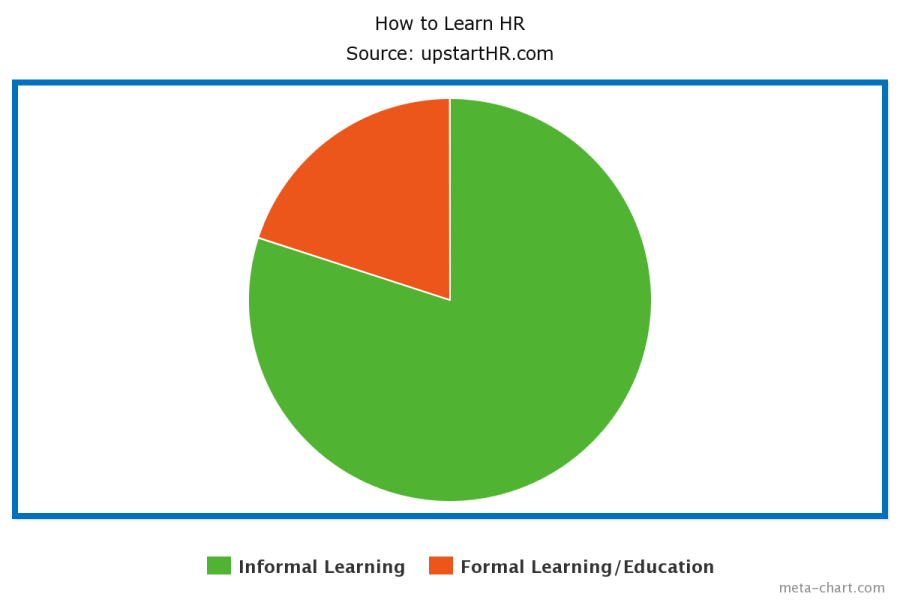 That said, don't lose hope! I have some ideas for you that can help you make some headway. 
Breaking into HR and Other Tips
I've written extensively over the last 10 years on how to break into HR, and the links below will take you deeper into those resources. If you're just starting out, these are the things that NOBODY tells you about how to get into HR and be successful.
One final comment on this. One of the most powerful pieces of advice I've learned over the years is to "do HR where you are," even if you're not in HR. You can learn more about that here, but here's the gist:Â 
Do HR where you are. This is the term I most commonly use to tell others to find opportunities to practice HR-related skills in a non-HR position. This includes building and sticking to a budget for your business unit, helping to recruit others into your department, working with managers (or as one) to help work through employee relations issues and coaching. Surprisingly, this actually was chosen as the most valuable way to prove value to a hiring manager (see the diagram below for more information). In the next section I talk more about how you can do this with a few specific examples… Read more
Video: Looking at REAL HR Consultant Job Requirements
In the video below, I look at two HR and recruiting consultant jobs and the specific requirements of each, demonstrating which one is best fit for someone who is trying to break into HR consulting and which might be better for someone with more experience. 
Note: I posted those job requirements (human capital consultant vs staffing coordinator) at the end of this article in case you missed them in the video and want to look at them more closely. 
What if I Already Have HR Experience?
If you're reading this and you have some HR experience already, but you're not sure if consulting might be interesting for you, here are a few tidbits from people I have connected with over the years that might be helpful suggestions:Â 
Stephanie Walsh (connect with Stephanie)Â 
What I love:

1) Work in a variety of industries, which can greatly expand your knowledge base. (Plus, it is great for someone like me who tends to get bored easily.)
2) You have the option of choosing which clients you wish to work with.
3) The work usually consists of project-related work (complete internal investigations, develop compensation plans, train employees) and
· can give you a more frequent sense of accomplishment
· allows you to work in your areas of expertise
This is in contrast to the administrative task of running the department which isn't always easy to see your progress.
Mike (connect with Mike)
1. I thoroughly love HR and I am very passionate about it, but many are not due to the difficult conversations/situations that occur. Those situations make them feel uncomfortable, but I enjoy all aspects of conflict resolution and doing it in a dignified way where many will say that they like the way they were treated.
2. I enjoy knowing that each day and each client has a different set of problems and that I get a chance to offer multiple sets of HR solutions to help any company attain their mission, vision and goals in a positive light.
If any of those comments from Mike or Stephanie sound like something that would align with your work style in HR, then maybe consulting is something you should consider! There is the full-time route, which both Mike and Stephanie have explored, or you can look at something part-time to see if it's something you really want to do. 
Two Other Ideas: Starting Your Own Side Hustle
I've also written in the past on what it takes to start a sideline HR consulting business and how to monetize your passion for HR, if that's something you're interested in. Details on both of those can be found at the links below. 
How to Start a Sideline HR Consulting Business
The Side Gig: How to Monetize Your HR Passions
Bottom line, thanks for the insightful question. Luis. I hope this gives you some good ideas for career paths, starting points, and how to jump start your HR path. Good luck!
Reposting HR Job Requirements from the Video
In case you want to review those more closely, check out the job posts below. The first, Human Capital Consultant, is for more experienced HR pros. The second, Staffing/Recruiting Coordinator, is for someone trying to break into HR that wants to explore the staffing route as a career path. 
Human Capital Consultant
This position will be responsible for executing Human Capital strategies and activities that positively impact client effectiveness. Areas of responsibility include, but are not limited to employee engagement, performance management, recruiting, benefits administration, payroll, compliance, and process development. He or she will actively participate as a member of the Human Capital team to identify, recommend, develop, and implement Human Capital programs and practices that deliver required results in support of the overall objectives of our clients.
As a Human Capital Consultant, this position will interact with employees of clients at all levels, client affiliates, vendors and service providers, and broker consultants. Due to the remote working of this position, he or she will need to have a decisive and effective judgment while continuously collaborating with other team members. He or she will need to demonstrate flexible and efficient time management and have the ability to manage and prioritize the workload. He or she will have the ability to work in a fast-paced environment while maintaining a positive and professional disposition.
CORE FUNCTIONS:
Ability to consult, collaborate, and integrate into teams remotely;
Facilitate human resources processes;
Answer employee requests and questions;
Collaborate with clients to execute human resources strategies to enable business objectives and support future business growth;
Identifies and analyzes trends related to recurring issues and recommends strategies to help resolve the issue;
Ensure client compliance;
In collaboration with management, administer group health, welfare and benefit plans to include: medical, dental, Life, AD&D, LTD, STD, FSA, EAP, and COBRA by ensuring timely enrollments and terminations and providing employees with benefit statements;
Responsible for reconciling and preparing for approval benefit related invoices;
Resolving benefits-related problems by assisting employees with all benefit issues;
Oversees client retirement plans by ensuring enrollments and terminations are processed; provide employees with benefit statements;
Works with Sr. Human Capital Consultant to coordinate annual benefit open enrollments in conjunction with developing quarterly benefit updates;
Conducts new hire benefit orientations; assisting new employees with benefit selections; troubleshooting employee benefits issues; preparing separation documents for terminating employees;
Assists with processing of terminations;
Prepares new-employee files;
Maintains in-depth knowledge of HR compliance and provides HR policy guidance and interpretation;
Coordinates client recruiting activities by working alongside employment agencies and search firms; and
Enter and run client payrolls.
Behavior Expectations – The incumbent must maintain the ability to perform the functions of this position while deploying proper confidentiality, professionalism, and tact. The majority of information held within the Human Resources department is privileged, and the incumbent is expected to secure this information while maintaining a professional demeanor at all times. Additionally, the incumbent must act as a credible partner, be proactive (has a point of view, challenges assumptions, takes initiative); and be a trusted thought-partner to management within designated departments. As a Human Resources professional, the incumbent should be committed to act as a change agent and advocate for the organization as a whole, while aligning HR initiatives that support corporate strategies, build stakeholder value, and help shape the organization's image.
BACKGROUND REQUIREMENTS:
Education & Experience – BS/BA required, minimum of 3-5 years of Human Resources experience required. Experience with Microsoft Office required.
Skill Requirements – Must have excellent verbal and written communication skills and have the ability to maintain confidentiality in all aspects of the position. Experience in managing multiple projects with strong prioritization skills with proven knowledge of HR industry practices preferred. Ability to work remotely and meet deadlines. The ability to think critically, analyze data, and analyze data trends, and proficiency in HR policies, procedures, laws, and regulations. The incumbent must be able to balance multiple priorities, be proficient in creating and delivering formal presentations, and proficient in Microsoft Office (Outlook, Excel, PowerPoint).
Recruitment Coordinator
Remote Recruiting Coordinator
Anywhere across the USA, Contract Opportunities
Immediate openings for 2-6 month 1099 contracts
Recruiters on Demand has an immediate need for entry level recruiters and/or entry level recruiting coordinators for immediate contract assignments.

What you'll do:
Screen and process resumes in order to identify qualified applicants for open positions

You will search for potential applicants on major boards and through other sourcing tools to help build a pool of candidates.

Schedule interviews and screens for various hiring managers and recruiters.

Teaming with other experienced recruiters, you will identify creative avenues to increase candidate flow.

You may also be cross-trained on other areas within the Recruiting department.
You must have:
Bachelor's degree highly preferred

Excellent verbal, written, and interpersonal skills

Strong organizational skills

Ability to multitask

Professional phone etiquette

Administrative or support experience is a plus

Ability to work remotely, without direct supervision