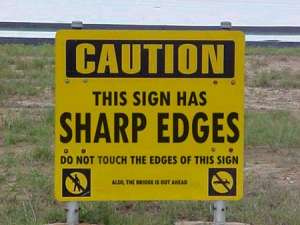 After all of the "end of 2009" and "here comes 2010" posts I've been reading, I realized I haven't done my own! I checked my phone, and I have lots of jumbled ideas. Maybe I can straighten them out and have some smooth sailing into the new year. Let's unpack, shall we? I'm just typing as fast as I can and will probably miss quite a few things.
Looking back at 2009
Created UpstartHR
I created UpstartHR and really got into writing online. It's been an eye-opening experience for me, and I am thrilled to be a part of an amazing community.
Made LOTS of friends
I don't have the space or time to mention all of the friends and acquaintances I've made this year. Andrew, April, Jim, Victorio, Trish, Steve B., Steve H., Rich, Lance, Chris F., Crystal, Joan, Margo, Mark, Paul, Michael, Kelly, Alicia, and Allen are just the tip of the iceberg. If I didn't mention your name, please leave a comment below and hassle me for it. I promise it's not on purpose.
HRevolution

Trish and I snagged (a lot of) help from Crystal and Steve and built an amazing HR unconference together. From a few simple tweets in June to a smashingly successful event in November, you've all made me thrilled about the next one!
Rock the PHR
I decided to help people studying for the PHR/SPHR exams by creating Rock the PHR study guide with a little help from April Dowling. It did well and was an amazing learning experience for me. The relaunch next week (January 4th @ 6pm Central) is going to be so much fun. I can't wait to welcome some new friends into the mix.
Venting HR Guy
It may not be big for all of you, but seeing Venting come back after a hiatus was nice, and now that he's found a new job, it looks like we won't be seeing him anymore. But that's fine, since he's finally out of the torturous clutches of his former employer.
Clue Wagon
Kerry is one of the funniest bloggers around, and I'm envious of her style. This week she posted her final post and is saying "goodbye" to the blog. She will be missed.
Looking forward to 2010
Relaunch
Like I said, the relaunch is going to rock.
New RSS distribution via HRM Today
In an effort to spread my message far and wide, I've joined HRM Today. Let's see if the new owners can pull through for me. :-)
New Kids
I laugh when I say that, because I'm still technically new, too. However, in the past few months, we've seen some great new blogs like tHRyving, HR Think Tank, RethinkHR, HRart, Â and more. Keep it up, everyone! If you think you might like to start your own HR blog, hit me up. I'd love to help.
Assistant Webmaster for NASHRM
One of the "other" gigs I handle is working with my local HR chapter. I'll be stepping up as an assistant webmaster in 2010, and I'm planning to bring the big guns. If you have a suggestion you'd like to see in a SHRM chapter, leave it in the comments. I'm taking all advice into consideration and trying to make this chapter the best. SHRM may or may not be awesome, but this local chapter sure can be.
Secret Project
I have a secret project running through January/February with some HR bloggers you all know and love. I hope to report back on it as soon as it's through and I can get some feedback.
New products/services/partnerships
I'm always looking for partnership opportunities. If you have something you'd like to work with me on (publicly or privately), I'm interested in hearing it! I'm working on a leadership project and an HR ninja project at the moment, and I'll be sure to let you all know when it's ready to rock and roll.
That's all I can scrape from my cranium at the moment. I know there are tons more things that I've missed. My final thought is that I've had a great year, and I can't wait to share the upcoming year with each and every one of you. I hope you find my work valuable and uplifting. Thanks for being a part of this wild ride.