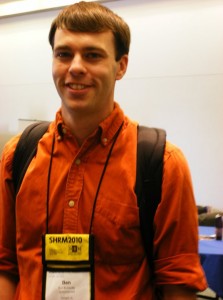 All I can say about my experience at #SHRM10 is "wow." I'm still trying to digest all of the lessons from the event, but I can already say that it was completely worth my time and sweat investment. There were 30% more attendees at SHRM10 than at SHRM09, and I think that was a part of the enthusiasm that buzzed around the event.
What did I learn?
I learned more about strategic planning, creating a better experience for job candidates, and serving others. I learned that being involved in the social world before the event helps you to make connections and build upon them once you arrive. I learned that the Monster and Smartbrief teams (and by default, me!) work their butts off to make the experience amazing for everyone.
Here are a few other lessons I've learned and a few that I'm still digesting.
Connections
If you've ever heard me or another socially-active person mention events, we probably mention connections as a benefit. While it seems somewhat vague, I'll put it this way: I have a list of 30 people to follow up with who most people would salivate to connect with. Why do I, a little old HR guy from Huntsville, Alabama, get to reach out to them? I'm not completely sure, but I think it has something to do with my passion for the profession and my desire to see things improve. I can't think of any other reason they'd be interested. :-)
Even if I had done nothing else during this event other than talk and meet people, it would have been completely worth the effort. How's that for value?
The day job
It seemed almost like an afterthought, but I did get some great ideas to carry back with me to my day job. While I didn't get to see all of the sessions I wanted (some of those suckers fill up fast!), I did experience a handful of solid, value-packed speakers who challenged my thinking. This list is going to be the frustrating one, probably. While I'd like to work on the 50 things we're doing wrong, in reality I just can't find the time to do all of them. But if I can make a few small changes (just a few, mind you), and it has a positive impact on my workplace and the overall organization, I think I might be okay with that for now.
Questioning my path
One thing I didn't expect was questioning my career choices. I had multiple conversations with Eric Winegardner from Monster, Jennifer McClure from Unbridled Talent, and Gerry Crispin from CareerXroads. All three of them are superstars in their own right, and all of them encouraged me to continue growing and developing in my career.
One of the most profound statements I've ever heard from Eric (and it wasn't this one) was this: move up, not out. So many amazing HR pros eventually take off and leave the profession instead of continually climbing to be Directors, VPs, and Chief HR Officers. We need more great people to ascend to those positions instead of leaving them to the people with seniority by default (even if they don't have the skills or passion to be great at it).
Jennifer asked me what I wanted to do with my career. I didn't have a quick answer to that, and she reminded me that as a recruiter, I needed to know what I wanted before it was offered. For example, if she called me to recruit for a position I seriously wanted, but I sounded unsure, then I'd probably be passed over completely for the job even though it was a good fit for me. I need to figure out what I want to do next so I can seize the opportunity when it comes along.
Projects and partners
While I'm active quite often, it's never as fulfilling when I'm working alone. I love love love getting the opportunity to help someone else to finish a difficult task or build something new. It's so much more exciting and fun to share things with other people.
Mike VanDervort shared a great idea that I can't wait to assist him with.
I'm on the lookout for ideas I can share with Matt Charney, because he was so helpful throughout my conference experience.
Bryan Wempen and John Jorgenson (among others) are great local/state SHRM leaders, and I am seriously thinking about partnering with them to develop more resources to better serve their members.
Chuck Salvetti, the guy in charge of student and young professional stuff at SHRM, has asked if I would volunteer to help get the young professional group up and running smoothly. I' just sent in my application, Chuck!
There are others, but I don't want to let all of the cats out of the bag just yet.
Keep the flame burning
While I'm completely and totally on fire right now, it won't last. I'm going to try to stave it off for as long as I possibly can, but the experience will fade from my mind and other stuff will clutter up my brain. How in the world can I keep it going? What if I don't have an Uncle Andre hanging around to help keep me on the right track? If I could have learned one thing at SHRM, it would have been how to keep the spirit and enthusiasm all year long. Exploring that one could be a complete post in itself, but if you have your own suggestions, I'd love to hear them!
SHRM membership in my future?
I was prompted by some amazing people, including Gerry Crispin, Nancy Newell, Sue Meisinger, Tara Mauk Arthur, China Gorman, Nancy Slotnick (and more), to join SHRM. I still haven't made the leap just yet, but I think it's going to be sometime in the near future. To top it off, both Gerry and Sue offered me this deal: if I don't get my money's worth in value from SHRM membership, then they will pay me back out of their own pockets. It doesn't get much simpler than that, huh?
What you missed if you weren't there
If you haven't seen it yet, there was some amazing content generated from the event. Below are some of the best resources I've seen so far (and a few of mine thrown in because I'm me :-)).