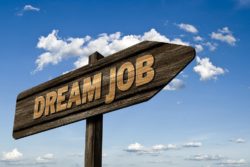 Today's question is from someone that is trying to get into the HR profession. It's a common challenge, but her specific problem is whether this is coming too soon or if she is ready for the role. Check it out:
Hello!! My name is Sam. I just started my educational journey in business, and eventually a degree in Human Resource. I'm NEW, I'm EXCITED, and I'm…… uh oh…. I'm given the opportunity to apply for and possibly taking a position, ALREADY?
So, here's some back story. I'm in our local coffee shop grabbing some fuel for the day, when the owner of my longtime boyfriend comes into line behind me. No big deal, we've met many times and he's a really nice guy. Well, he overhears me speaking about school and asks me what I'm in for. I jokingly say "whatever Company X is hiring for".
"Human Resources, Janedoe is leaving soon"
Oh. Em. Gee.
THAT'S WHAT I'M GOING TO SCHOOL FOR!
Fast forward, Janedoe is still there, I have been way too chicken to go talk to her. Besides being nervous to get the job (potentially), Im nervous to tell the woman I've been working for doing homecare that I'll be going for an interview for my dreamjob and leaving her in the dust. Continue reading →