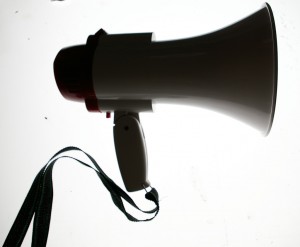 Today I'm giving a few shout outs. Why? Because people are doing great things and I don't want you to miss out.
I had the opportunity recently to speak with Mike Haberman of Omega HR Solutions and author of the HR Observations blog. I've been reading Mike's blog for almost a year now, and he is darn brilliant. His experience and passion show through his work, and I am glad we made contact. There are some amazing posts in his archives, but make sure you check out the recent ones he wrote on the idea of a free agent nation being alive and well and HR survival lessons from Drucker.
Nathaniel Rottenberg of Rypple tipped me off to a new project they're working on called Make Work Meaningful. After I had a chance to check it out, I was an instant fan. I have always encouraged people to do work that is meaningful and fulfilling, so I feel like Rypple's MWM project is one worthy of your attention. You can find great information on helping others develop by helping yourself and making the most out of mentors.
Eric Winegardner from Monster is a fantastic guy. He spent a few minutes on the recent HR Happy Hour episode talking about me of all people. His main point was how the younger generation of HR professionals can\'t afford to attend events like the SHRM national conference and how that\'s a problem both for the more seasoned individuals and for the newer ones, too. I appreciate him bringing attention to this important issue.
My take on the matter is that by the time newer HR pros can afford to attend an event like the SHRM conference, they will have already had the passion sucked out of them. That\'s one reason I think something like HRevolution is so important. People with relatively low funds can still participate in something that\'s passion-driven like HRev.
Has anyone else seen someone do something amazing recently? Let\'s hear about it!