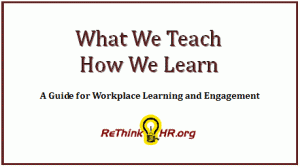 It seems like 2010 is the year of free eBooks, but it's really a lot of fun to come together with some other brilliant minds and put together a resource like the What We Teach and How We Learn eBook. Big thanks to Benjamin McCall of ReThinkHR for pulling this together!
The neat part about the book is the open space for you to add notes, ideas, and ways you can implement what you're reading. Love that it's interactive like that.
Here's a snippet of my piece called "Train for the minimum, fail half the time."
How do you recognize when someone has been trained to do something? For instance, if Bob is training for a marathon, you can plainly observe the results of that preparation when he finishes the race, right?

What would have occurred if Bob trained not for the marathon, but for a half marathon? He wouldn't have been successful! Then why do companies train supervisors to recognize the minimum acceptable standards but not much more?

A Painful realization

I had to sit in on a supervisor training session recently,and it was painful to watch. All of the material was geared toward teaching them how to reach just above the minimum acceptable level (how not to get sued),but the training never went farther by teaching how to give positive feedback or how to have a difficult conversation with their staff.

If we train people only to recognize the minimum acceptable standards, but we don't give them anything more, then they won't know how to do–and be–better.
My companions in this venture
Erin Schreyer, President of Sagestone Partners, Founder of Authentic Leadership Cincinnati, Twitter: @eschreyer
Jennifer V. Miller, People-Equation.com, Managing Partner at SkillSource, Twitter: @jennifervmiller
Steve Boese, HR Technology Blogger, HR Technology Instructor, Rochester Institute of Technology, Twitter: @steveboese
Sharlyn Lauby, SPHR, CPLP, She is the HRBartender.com, President of Internal Talent Management (ITM) Group, Twitter: @sharlyn_lauby
Matthew J. Stollak, Ph.D., True Faith HR, Assistant Professor of Business Administration, St Norbert Collage, Twitter: @akaBruno
Ben Eubanks , UpStartHR.com, Runs his SHRM chapter\'s RocketHR blog, HR pro at Volunteers of America, Twitter: @beneubanks
Chris Ferdinandi, RenegadeHR.net, Author of CultureConvo, Employee Development & Social Media Specialist at EMC, Twitter: @chrisferdinandi
Lance Haun, ReHaul.com, Community Director for ERE Media, Twitter: @thelance
Steve Browne, Executive Director of HR for Larosa\'s Pizza, Facilitator, HR Net, Twitter: @sbrownehr
Benjamin McCall, Leadership Performance Consultant, Editor, ReThinkHR.org, Twitter: @BenjaminMcCall