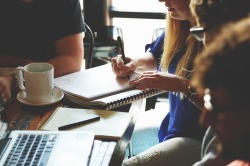 If you've been tasked with conducting a training and development program, it's important to look at the issue from all angles. This involves taking a deeper look at the role that each individual plays in the organization, and where there are gaps in the current employee training program. Here are five areas to focus on as you examine the organization's training needs.
1. Analyze the organizational goals
One of the primary ways to identify a business's training needs is by looking at the organization's goals and strategies. An organizational assessment takes a deeper look at what these goals and objectives area, and how effective the team currently is at the moment. You can also look at the history of employee training and if it made any measurable changes in the organization's performance. The purpose of this type of assessment is to help you see the bigger picture, forecasting where training would be required and how effective it would be.
2. Conduct a work or task assessment Continue reading →