I had a powerful moment last week. I went back and checked some of the statistics on the website for how people find the blog, and there have been tens of thousands of HR pros that found upstartHR via Google because they were looking for help with HR certification content. That truly blew me away!
It's that kind of support that has encouraged me to work on developing critical study materials that fill the gaps in the HR certification industry. I made a quiet announcement last week to all of our customers so far this year, but today I'm announcing publicly that our new revised courses for PHR and SPHR certification prep are both available.
(read on for how to get a limited time 20% discount on the course you need!)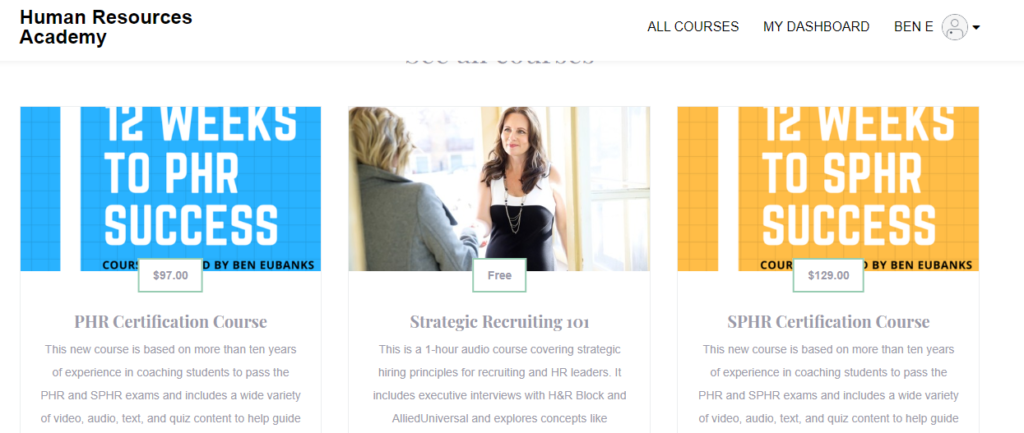 Why a new course? What was wrong with the old one?
The changes in this year's HRCI body of knowledge prompted me and the team to make changes to the content, and I'd already been thinking for some time that I wanted to move away from the old format to a more comprehensive study platform. I have partnered with Thinkific, an online learning system, to transition the PHR and SPHR courses to a new format that helps learners wherever they may be.
Additionally, during the transition I not only was able to weave in some additional content from video, audio, and external sources, but I was also able to pull together hundreds of practice questions to assist with study preparation. Now students that use the course are not only getting the industry's only study materials that offer a practical perspective—they also get a wide variety of practice questions to help them test those concepts they're learning.
Is this the end goal?
Not by a long shot. The course has always been designed to be used alongside another study tool. HRCP has been a great partner in that regard, but I also recommend the Reed books on Amazon for anyone that needs something more budget-friendly (even if it's for an older version of the test, 99% of the principles are still the same!).
However, those resources are highly academic in their approach, and the number one reason people fail the HR certification exams is because they lack the practical insights around application. In other words: you learn the theories, but you fall down when it comes to talking about how they really work in practice.
The content in the upstartHR course is very practical and written from an "in the trenches" perspective, which means students aren't just memorizing terms with no idea of how they function in the real world. It's my plan to continue fleshing out the course until it is able to stand on its own, though this is a long-term plan. Additionally, I will be incorporating new resources, research, and information into the course on an ongoing basis to ensure students are always receiving the latest and greatest information.
What about the SHRM exams?
These tools have been used successfully by dozens of students in the last year. I was hesitant to make this claim without some evidence to back it up, because the course was designed for the HRCI exams. However, there aren't two wildly different ways to practice HR, there's one right way. The feedback from SHRM-CP and SHRM-SCP students has been very positive and I'm proud to say that it can help those studying for the SHRM exams with key concepts and practical insights and case studies.
A note about the popular audio course
A final note: the audio course was developed as a tool to help solve a variety of problems (students wanted to listen to materials, study on their commute, etc.), but I've heard from some students that the content navigation and user interface is not as easy as they would prefer. I'm working on a solution to this, but, as with the course, it isn't a quick fix. Some of the audio content is being merged into the PHR and SPHR courses and some will stand alone, but I am working on this to create a better experience for students.
Celebrate with a discount!
Bottom line: this is an exciting time for me and the team. To celebrate, for a limited time I am offering a 20% discount on the new courses if you are preparing for the PHR or SPHR. Use discount code "20launch" at checkout. This code is good until Halloween (October 31st, 2018) so don't miss your chance! Access to the course does not expire so you can take the exam this winter or any time next year if you're already thinking about it.
As always, if you have questions feel free to reach out to me in the comments below or via email. It's an honor to serve the HR community and I look forward to another great year of success with my students!