Recently I had the opportunity to participate in a project to collect some employee development ideas for a free eBook. It launched recently, and I'm excited to share it with you today. Click the link below to download this guide full of actionable tips and strategies relating to employee development ideas. I have published a piece of my contributed article below for you to see the kinds of topics the free guide includes.
The Development Scale – Leading the Right Shift to Self and Organizational Development
Employee Development Ideas: Encouraging Development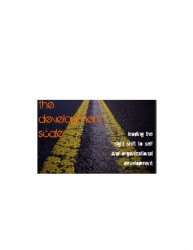 Congratulations! You've picked a development goal for yourself. It's big, but that's okay, because the important thing is that you're focusing on your development and setting goals for yourself. Now let's sit back, relax, and enjoy the happy feelings associated with setting a personal goal.
Or not.
See, the problem that I consistently see with employees making development goals is that they don't give enough thought to the actual completion of the goal. It feels good to set a goal and declare our intentions, but when you're mired in the "everyday" tasks, the goal is the furthest thing from your mind.
The important thing here is that we all need some encouragement to pursue those stretch developmental goals — they don't just happen accidentally.
And research shows that employee development may have a larger impact on their overall work and results than previously believed…
Click here to check out the guide and read the rest of my piece, along with content from some of the other highly intelligent development ninjas in the space! A big thanks to my pal Chris Ponder for putting this guide of employee development ideas together!