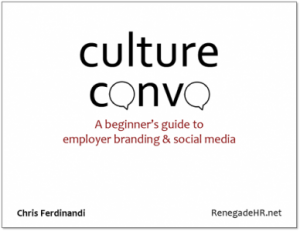 My friend Chris Ferdinandi of Renegade HR has been writing a great eBook titled "Culture Convo." It's about how to use social tools to talk about your culture and share your employer brand with the world. I was lucky enough to get a preview copy, and I have to say that it's an amazing tool that you must have. But that's not even the best part. Before the book launches to the public, Chris is giving away some fantastic free stuff to get you rolling in the right direction. Here's a snippet of his description…
You'll learn:

How to use six of today\'s most popular social media channels: Facebook, Twitter, LinkedIn, Blogging, YouTube and Flickr.
How to get started, what to talk about, and how often to post.
How to get your employees involved.
How to measure your success.

Culture Convo is 53 pages of strategic and tactical information, including step-by-step instructions on getting started. You also get a free bonus section featuring interviews with HR and marketing pros at Zappos, Sodexo and DAXKO – three organizations who are leaders at using social media for employer branding!
I've been waiting for a while to get a chance to share this with everyone, and it's finally time to unveil the masterpiece. :-) I already confessed this to Chris, but now I'll let everyone else know as well. After I finished soaking in the preview copy (as in "I read it twice!"), I started developing some training for my own employer's outreach people based off of the principles and ideas Chris shares in the book. Simply put:Â I can't recommend it highly enough.