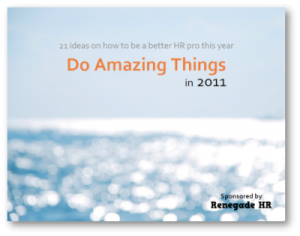 After that title, I bet you're wondering if I have a game of business buzzword bingo up my sleeves for the day. Well, sorry to mislead you, but there's something even better on tap.
The 2011 version of the free Do Amazing Things eBook is here!
There are 21 great, short stories and ideas to get your year moving in the right direction. I already made a copy for my manager and put it on her desk.
A suggestion
Instead of trying to scarf it down in one sitting (which is easy to do!), hold off and read one of them per day. Then try to find a way to do something different that day to align with what you've read. Whether it's simplifying the way you work, looking deeper into your motivations, or innovating your way through a new process, try to make real, actual change in the way you do what you do. I've personally seen amazing results from that and hope you do as well.
Click here to download Do Amazing Things in 2011 for free.
Thanks to Chris for putting this together. His efforts are definitely appreciated!