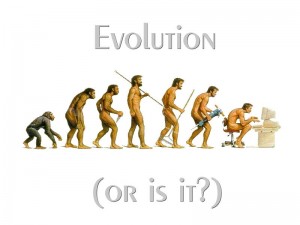 Today's post is a good one, and it's even better because I was able to get the fantastic Robin Schooling to share it with all of you! I had the opportunity to meet Robin last weekend, and she was as wonderful in person as she is online. Now have a seat and listen up. She has a lesson for you…
It's taken me a while to process and think about what I took away from HRevolution.  Other than "The HR Apprentice" session where I was a team captain (thanks Steve Boese) and talked up out of necessity, I primarily sat quietly absorbing content and was the most active-listener I have been in a long time.  I continue to think about (and even dream about – yikes!) conversations and comments and moments.  I had a conversation with my CEO on Monday and told her that it was the best event I ever attended (and my first unConference) but also that I was feeling a bit sad.
Sad?  Yes…because I fear for the ability of our HR family, and by extension our organizations and communities, to evolve.  It's like the aftermath of hanging out with Uncle Andre at a big family dinner.
When Uncle Andre joins us for a family gathering, there\'s a sense of excitement and energy (and maybe a few battles and arguments).  Most family members agree that Uncle Andre is the forward-thinking, progressive*, hip, with-it, "cool" uncle.  By comparison, the rest of the extended family is fairly complacent, content, and willing to sit back and complain about the world's state of affairs without doing anything.  And, quite frankly, the rest of the family can sometimes be disturbingly sexist, racist and homophobic.  So when Uncle Andre leaves to return home, I am left with the rest of the family I hang out with every day, and what I know about them comes, sadly, a bit more into focus. (*use of the term 'progressive\' is not intended to imply or confer political party affiliation)
Uncle Andre and I spring from the same gene pool and share inherited traits. He and I have, I like to think, started to evolve.  If evolution is a change in inherited traits through successive generations, what will it take for the rest of our family to join us?  Because I\'m not sure our family has the time for WAIT for generations to work through some of these things.   As an HR family, we\'ve inherited a legacy and foundation of what HR is and what HR historically does.  We\'ve also, quite accurately in many cases, been labeled the:
Administrivia Worker,
Policy Police,
Personnel Girl,
Overhead Department,
Gatekeeper, and
Human Remains
So I took a few days to reflect upon my sadness – how could I leave HRevolution so incredibly energized (and I was/am/will continue to be) yet also feeling so lost and alone and bereft?
What left me feeling sad after HRevolution was the realization that when I go to the next HR family dinner back home, I won\'t have Uncle Andre by my side.  Rather, I\'ll have the other family members around the table, the ones I see every day… the ones who can\'t or won\'t evolve.  Is their unwillingness to evolve a conscious choice or a matter of their inherited traits?  Are they fighting evolution – and do they even know they NEED to evolve?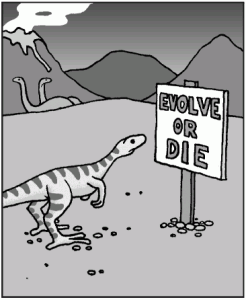 Cousin Ashley is an HR Director who has been employed for a long-time with the same company – she\'s quite accustomed to and very comfortable with the status quo, and sees no need to adapt to the changing world beyond her immediate border.
Aunt Marie is content performing super-effective HR administrative work (and someone has to, let\'s face it), and while she has a day-to-day impact within her company, she doesn\'t necessarily care about moving the profession, or her organization, forward.
And Brother Joseph continues to eat dinner with the same family members, in the same geographic location, and sees no need to worry about trying another  cuisine or having any other dinner conversation than the ones he has always had at the dinner table – with the people who think

JUST.LIKE.HIM

.
To talk about evolution means discussing adaptations and mutations and natural selection.  Perhaps Uncle Andre and I have adapted or started to adapt; perhaps we are just mutants.  But evolution, for the sustainability of our profession, will NEED to occur.  The mutations that Uncle Andre and I sense within ourselves (like X-Men!) will need to become, and remain, more common in successive generations of our HR family… or HR will cease to exist.
And if HR ceases to exist…. then I will really be sad.
Robin Schooling, SPHR is VPHR for a statewide Louisiana organization.  She has over 20 years of HR management experience in various industries including health care, banking and manufacturing.  Robin is Professional Development Coordinator with the Louisiana SHRM State Council (www.lashrm.org), a Past President of GBRSHRM (http://gbrshrm.shrm.org) and serves on the Board of Directors for the ASTD Baton Rouge Chapter (http://chapters.astd.org/SiteDirectory/BatonRouge/Pages/default.aspx)