The Titleless Leader: How to Get Things Done When You're Not in Charge by Nan Russell
I'm in a unique position. Due to the importance of my role (hey, HR is important, right?), I'm a member of the leadership team where I work; however, I don't have anyone who directly reports to me, which makes some requests a little difficult. I can't tell or force someone to do something for me, and even if someone did listen, the diminishing returns of playing the boss card are always out there. If anything is going to get done, it will have to be through gentle persuasion and steady leadership. So when I saw this book by Nan Russell, I knew I had to check it out (it's on my list of leadership reading recommendations). It was a huge hit, and I have some phenomenal tips and ideas to share with you today. Let's jump in.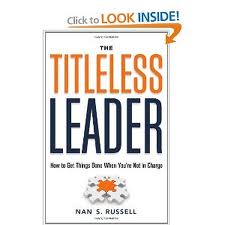 What I liked
The book starts early with this great quote: "Discretionary efforts are tamed, ideas are shelved in heads, and interest in work has waned at a time when intellectual property and initiative are competitive necessities leaders can't buy with a paycheck." Paying for physical effort is vastly different from paying for intellectual effort, though many managers still cling to the ideas that worked 60 years ago when manual labor made up the lionshare of the workforce.
Titleless Leadership is common sense, but uncommonly displayed behaviors that, when practiced, create trust, positive influence, exemplary results, and natural followership. For a titleless leader, it's not rank that gets results, it's actions. Wow.
Leadership is a choice. You don't become a leader by taking a class or reading a book. You become a leader by making "leader decisions" time and time again.
How do you get trust? By giving it first. Assume the best. The trust "calculator" on page 29 is an intriguing idea. It looks at what levels of trust you can delegate to people and when to give more or rein it in based on the results you're getting.
The chapter on teaming with others starts with this phenomenal proverb: If you want to go quickly, go alone. If you want to go far, go together. A strong team can take the business farther than the sum of its parts.
Want to draw people to you? Practice self-accountability, and practice it well. When you hold yourself up to a high standard, others will want to achieve that same standard. Be accountable for keeping your own tasks on target, and others will want to follow that success.
Rankism sucks. If you don't know what rankism is, it's basically treating others differently based on their rank or status. And it's a terrible practice. And that leads us to…
Don't look for special treatment. Give it instead. Yeah, you heard me. Instead of expecting someone to treat you with kid gloves or offer you something special, you should be practicing that for others, especially those who wouldn't expect it.
One more for this review since it's getting pretty long. A little later in the book the author brings up an example of an organization that had some public fallout due to 10% of their staff using the government web servers to view pornography and other illicit content. It's a quick and easy illustration for how we all too quickly focus on the negative and ignore the fact that 90% of the staff are doing the right things. I see this as especially valuable for HR pros. Too often we get bogged down in the negative and lose focus on the great work the rest of the staff is accomplishing. Don't let the negativity take over!
Wrap up
I would highly recommend this book as a resource for anyone who wants to have more influence within their organization.  Just a word of warning: you will be ready to take over the world when you pick up some of these contagious ideas. Some of the concepts are very "common sense," but even those are presented in a way that is fresh and invigorating. I'm going to be recommending this to friends and coworkers, and I wholeheartedly recommend it for you as well. Click here to get your copy of the book.
Click here for other book reviews.
The Titleless Leader
Reviewed by Ben Eubanks on
.
Leadership from the bottom up!
This book focuses on leadership and how to do it when you don't have a fancy title or manager responsibilities. Highly recommended for those looking to advance their career and grow their leadership influence.
Rating: 5