What's on your leadership reading list?
No thanks, I read a book on leadership already. What else do you recommend?
Someone dropped that comment in a conversation recently, and I wanted to take some time today to dispel this notion about leadership books, courses, content, etc. The concept?
Once you've learned about leadership, you don't need to know any more.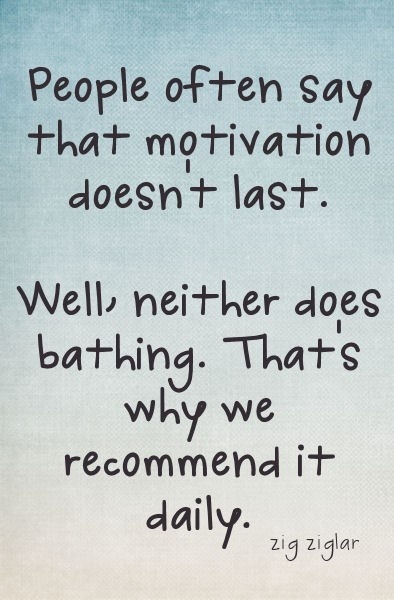 If it sounds silly to you to see it spelled out like that, I'd have to agree. Learning about this stuff isn't a one-time thing. It's like the great Zig always said: People often say that motivation doesn't last. Well, neither does bathing. That's why we recommend it daily.
Different Readers and Different Leaders
Last year I put together a book club to help some local HR leaders by exposing them to good resources and adding in a networking opportunity. One of the neat things I learned was that even if ten of us read the same book, everyone walks away with different ideas that speak to them and their own situations.
In a similar vein, every leadership book is different, because they are all authored by leaders with different experiences, backgrounds, and beliefs. A book on my leadership reading list this month was authored by a former police officer who is now the CEO of a health organization. The insights and ideas I get from his writing are different from those that I get from John Maxwell, Napoleon Hill, and other authors.
Those two perspectives (both the reader and the leader) offer an exciting opportunity: virtually unlimited options for learning and growing as leaders!
Bathing and Leadership
Learning how to lead people isn't an overnight thing. The best way to learn how to lead others is by having someone you can observe. If I'm teaching you to build widgets, then yes, you can follow a series of directions. But if I'm teaching you to lead others, that is much better learned by more engaged methods like modeling, mentoring, etc.
Just like the <awesome> quote from Mr. Ziglar, we need to be practicing this stuff on a daily basis. The best part? It doesn't matter who you are, where you are, or what your position is–you can lead others through your words and actions.
Words-Speak well of others. Offer praise to those deserving. Be kind to all, especially the people others might not take the time to be kind to.
Actions-Treat others with respect. Give a hand (literally, if necessary) whenever you can. Offer a handshake or a hug to someone in genuine appreciation.
Consider a few of these examples and rethink what I said: it doesn't matter who you are, where you are, or what your position is, you can use seemingly simple gestures such as these to make the lives of those around a little brighter.
Not to spoil the surprise, but one of the books I'm going to talk about below is called The Titleless Leader. It's a great handbook for influencing others around you when you don't have the "I'm the boss" card to play.
Make it a regular habit to practice these behaviors. And funny enough, just like bathing, others will want to be around you more often when you do. :-)
Note: I'm putting the finishing touches on the free world's largest HR book club. Want more info? Sign up here.
Books as Leadership Learning Tools
Learning about leadership is best done through modeling and mentoring, so why even talk about books and other tools? Well, not all of us have easy access to a mentor or a leader that we respect. It pains me to say that, but I've been in work situations where that was plainly the case. Whether that's your situation or you're just looking to boost your learning about the art of leading others, books are a low cost, easily accessible method for learning.
I read a lot. Really. As in my wife is already planning to schedule the intervention if one more Amazon box shows up at our front doorstep.
Out of all of that, one of the things I have learned about reading is that if I can get one thing, just one, from a book, then it was worth my time to read. Sometimes I'll run across books (some of which I mention below) that offer much, much more. But it's not just the book choice that matters, it's how you read them.
I'd encourage you to read books like I do when I'm preparing to review. In fact, here's a free PDF template to help you do just that!
I pull out a sheet of paper and make notes as I'm reading (doubles as a bookmark in a pinch, too). :-)
My goal is to find 5-7 things that I can relate to my work and life. Sometimes I end up with less, but I'm being intentional about seeking out solutions to common, everyday problems.
If I only end up with two or three ideas, but they help me to make better decisions, lead others more fluidly, or solve problems I'm facing, then the $10-20 investment and the time spent reading was worth it.
I write a review (you certainly don't have to do that part) as a way to catalog the ideas and how I plan to put them into action in my own work/life.
The goal is to look for something actionable. The whole idea for this essay came to me when I was reading a book and thinking about how others might perceive the advice being dispensed. Here's the original note I made:
What about the different experiences people get from reading the same book? What is the impact of that? 
I already mentioned it, but just to reiterate: the problems, situations, and relationships you have cause you to read books differently than I would. You'll see solutions I might overlook, consider suggestions I might discard, and glean takeaways I might have no use for.
But for you, those are the key  reasons why you picked up the book in the first place.
The Secret of Quick Action
One "secret" (not that many people seem to know it, but I share it often enough that it shouldn't be a secret anymore) to really getting something powerful from a book is taking an idea and putting it into action immediately.
For example, if you read All In, a book I recommend below, you might come away with 2-3 ideas on how to really establish a solid foundation of belief with your team. Then you start testing out the ideas as soon as you possibly can. That's it. the sooner you can test an idea, get it into your routine, and make it a habit, the sooner you'll get a return on the time and money invested in the book. This also applies to courses and other training events as well as this leadership reading list, in case you're wondering.
Something Counterintuitive about Leadership
The best leaders often are those that are not interested in taking charge, directing others, and having minions do their bidding. They are the ones helping, offering support, and genuinely serving those around them. Look back at the list of behaviors and actions I mentioned above. Don't worry, I'll wait.
Okay, so what did they have in common?
Did they have to do with me asking how the other employees were going to take care of me?
Was it all about how someone was fulfilling my needs?
Was the focus on me, me, and me?
No! The focus was on serving others. A great quote about leadership/management I've heard over the years fits here:
Your employees aren't just there to make your job better. You're there to make their jobs better.
Servant leadership has been kicked around a lot over the years. In all the theories of how leadership really works, it's the one that I identify with most. Why?
Because the best leaders I've ever had displayed an unwavering, unbelievable focus on serving others. That took precedence over everything else, and the result was people working for them had a hardcore devotion and trust that was unshakable. Christine, one of my former managers, was one of those.
The worst leaders I've ever had (even calling them leaders is a stretch) were focused on their own agendas, making themselves look better, and trying to get all the credit, all the time. Bob (not his real name) was one of these.
If I was going to pit Christine versus Bob, it wouldn't even be a contest. We'd declare Christine the winner and be celebrating at the Dairy Queen while Bob was still trying to figure out how to start competing.
The distance between great leaders and not-so-great leaders is huge. Statistically we all can't be in the top 10%. There has to be an "average" in everything, even when it comes to leadership. And even an average leader is going to drive more results than the self-serving "leaders" that exist in virtually every organization out there. If I had to give one word that demonstrates how leaders move up the scale, it's intent. Being intentional is what it's all about. While the strategy of using books for leaders probably won't work for the bad ones, the good ones will recognize it as an opportunity to up their leadership game.
How to Take Advantage of Leadership Books
Here are some resources I have pulled together over the years that will help you take advantage of the learning opportunities that the leadership reading list below presents, whether personally or for your organization.
12 Books for Your Leadership Reading List
I have shelves full of books. We have already established that I'm a bit of a hoarder when it comes to these nuggets of nonfiction knowledge (try saying that three times fast). One of the most common questions I hear is "where do I start?" The easy thing with a leadership reading list is that you can really start anywhere. However, if you sat down with me over coffee (Diet Dew for me, please), here's what I would recommend. Please note that these are not the only leadership books out there (there are plenty more). These are just a few that I have read that I commonly share and refer others to.
Oh, and why did I pick 12 books? Well, there are 12 months this year (and next year–I already checked), and this gives you an easy way to pace yourself through some amazing leadership content. Here's the kicker: I guarantee you that if you spend the next 12 months reading these books and applying the principles outlined in this essay for how to put the ideas into action, you will become a better leader than ever before. 

And one other thing before we jump into the book selections. Did you realize there are college degrees for leadership? People pay tens of thousands of dollars for education around leadership, what it looks like, how it works, etc. I don't want to diminish the efforts of anyone with a formal leadership education, but for less than $150 you can get a year's worth of solid leadership teaching purely from books. Give it some thought.
All In: How the Best Managers Create a Culture of Belief (review)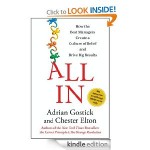 All In is a book that focuses on the power of belief. Sometimes we try to implement ideas and strategies, only to face frustration. If we take the time to help our employees believe in what we're working toward, we are more likely to be successful in the long run.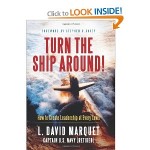 Turn TheShip Around was a great book for me. I love the idea of empowerment, or giving employees the authority to do things that need to get done. In this book, Mr. Marquet helped me to see that even the idea of "giving" empowerment is still trying to maintain the reins of control.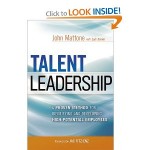 The book Talent Leadership is an amazing handbook full of ideas for leadership, succession planning, and more. I thought the content was going to be too "dry" when I started reading, but before I knew it I was taking notes, highlighting, and using the ideas to enhance my daily work.
How to Win Friends and Influence People (review)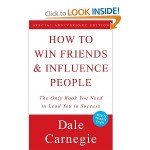 This is the oldest book in this list, but it's also one of the very best. The best thing I can say about this book is that the ideas are quickly actionable, which is important based on some of the conversation we've had today, correct? I can't recommend this classic highly enough.
Be Bodacious: Put Life in Your Leadership (review)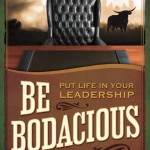 Be Bodacious was one of the very first "leadership" books I ever read. You never forget your first, eh? :-) The homey/folksy concepts in the book really hit home for me (hello, IÂ am from Alabama!) and I still refer others to it who are looking for something that is conversational and interesting with an underlying message.
Change Friendly Leadership (review)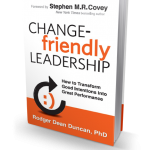 Change Friendly Leadership is another book that I just couldn't put down. I had so many notes and stickies when I was done reading that I thought my notes could serve as another book entirely! The key times when leadership is necessary are during change, and that's the focus of this leadership development book.
Carrots and Sticks Don't Work (review)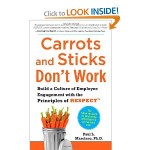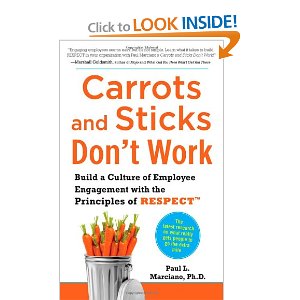 Motivation and influence are key tools in a leader's arsenal. Carrots and Sticks Don't Work is a great look at how to leverage the power of the RESPECT model to engage staff. It's written by a PhD, but it's very readable and interesting.
The Idea Driven Organization (video review)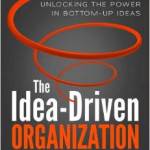 I recommend the Idea Driven Organization almost daily it seems. I read this book earlier this year and I still pull it off the shelf to revisit ideas and concepts that apply to my daily work. As leaders we can be a cap on ideas or we can be a conveyor belt pushing them through the organization. This is an excellent book on innovation and how to lead it.
The Culture Engine (video review)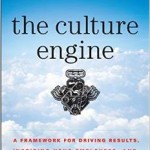 I recently reviewed The Culture Engine, but I knew it had to come into play here. I'm such a culture junkie, and the best leaders I have ever had were acutely focused on developing the right culture. If you've heard of the "culture" thing but don't know how to start or what the financial impact is, this is the book for you.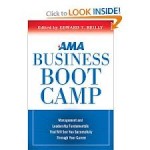 Business Boot Camp is the most textbook-like piece in this list, but don't let that fool you. It covers hundreds of ideas about leadership and management in a concise way. One thing I liked is that I could find ideas that were interesting to me within this book and that helped to springboard me in other directions based on those interests.
Why Managing Sucks (video review)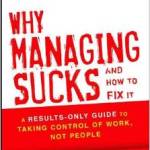 One of the biggest problems of leading others is that we often think about leading their behaviors. When it comes to the work being done (especially in a knowledge economy), that is less important than making sure the actual work is getting done. This book focuses on the ROWE (Results Only Work Environment) movement and how to make sure you're measuring results and not just activity.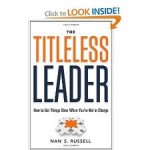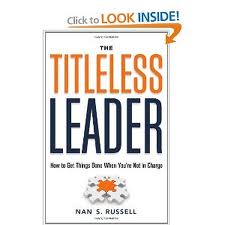 And last but not least, The Titleless Leader was a book I picked to start off an HR leadership book club, and it certainly got us off on the right foot. Many of the people I connect with are quick to say, "But I'm not a leader/manager, how can I do this stuff?" My first response is that anyone can lead from any role, and my second is a recommendation to add this book to their leadership reading list.
Note: Don't forget, if you're interested in more info on the free online HR book club you can sign up here.
What about you?
What are your thoughts on reading leadership books and the power they have to drive new behaviors, influence thinking, and produce ideas?
What is y0ur favorite (whether from this leadership reading list or not) and why? 
Do you make leadership training books a priority in your own development?