Global HR Competencies by Dave Ulrich, Wayne Brockbank, Jon Younger, and Mike Ulrich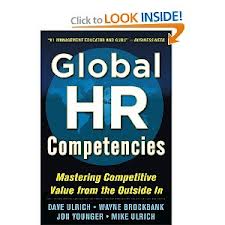 Global HR issues? I'm like most HR pros, and I'll freely admit it. When I hear the word "global" I tend to ignore the rest of what's being said. Honestly, who has time to think about this whole "global" thing when I have an HR department to run right here and now?
But, like many instinctive thoughts, it's short-sighted and a poor plan for the future. When the team representing the Global HR Competencies book reached out to me, I knew it was time for my attitude about the global HR issues, and marketplace, to change.
What I liked
The entire book is full of examples that will make you sit in awe of the amazing organizations across the world that are leveraging HR to accomplish revolutionary things. The global HR issues are being addressed every day by smart people in smart organizations.
One company (Tata) from India has line managers and HR executives work together to identify industry trends and opportunities for competitive advantage; they then turn those opportunities into cultural attributes and behaviors to hire against. That's powerful on so many levels (tying management and HR together, developing a plan and actually implementing it, etc.).
At Tata, HR is seen as the custodian of organizational values. Kind of like the keeper of touchstones mentioned here. Goes along with my premise that while HR is there to keep a finger on the "pulse" and communicate culture as needed, they should not be the ones creating the values.
If you read nothing else, the six purposes of HR mentioned in the book are worth the time to check them out.

HR pros should be the best thinkers in the organization on people issues.
HR pros must be equal partners with executives to accomplish the org's purposes.
HR needs to be responsible for the talent and organizational agendas.
HR should contribute substantially to revenue growth.
HR needs to create and sustain economic intangibles that are valued and rewarded by capital markets.
HR should see itself as a source of competitive advantage–and create practices that support that view.

Look for opportunities to outsource items that aren't key functions, whether it's finding a payroll services provider, looking at a benefits consultant, or hiring an accountancy recruitment agency.
There are dozens of great examples and topics in this book–more than I can cover here. But I want to close with this high-impact quote from this book that should make us all stop and think for a moment:Â What is my company's plan for an integrated set of HR products and services that meet the needs of our key stakeholders? How do stakeholders really rate the quality of what we are providing? Do I listen to and act upon their feedback? Â 
The empasis there is mine, but it's something that we all need to be called out on once in a while. Yeah, you're doing that "HR thing," but what do your people really think of it? Is it getting the job done, or are there some serious changes that need to be made?
One of my responsibilities is being involved in our Process Improvement Group at work. It has opened my eyes to the fact that we are each in control of our own area. Accounting isn't going to come in and change the HR policies. Contracts isn't going to swoop in and clean up that terrible onboarding process.
It's up to you (and me) to make that happen. If your people can't see the value of what you provide as an HR professional, then why the heck are they keeping you around?
Wrap up-Global HR issues matter!
Obviously if your organization has any intentions of working on a global scale, this book will help you get some insights into other regions of the world and how their HR processes differ from those in the US. Don't lose sight of the fact that some of these companies are wildly successful in their piece of the world despite heavy competition–that challenge isn't limited to the North American continent, these are global HR issues. I'm definitely going to be doubling back to read more about the HR competencies and how to fine tune those within my organization. Whatever the case, feel free to click here to get your copy of the book.