Using a PHR study group (or PHR online study group)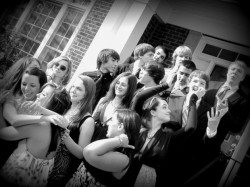 The other day I talked about how "hard" the PHR exam is. I discussed motivation as a key component for test preparation, and I think it's often overlooked when developing a testing strategy. If you think back to Psychology 101, there are two basic forms of motivation-internal and external. Internal motivation is all about setting goals, prioritizing them, and getting satisfaction from your accomplishments. It also requires quite a bit of mental energy, which is often in short supply with the abundance of responsibilities on your plate (work, spouse, kids, church, friends, volunteer activities, etc.). External motivators, however, can be extremely effective when you're looking for ways to boost your internal motivation. Enter the PHR study group.
How a PHR study group works
The PHR study group can be online or in person, but the key here is having a support system of people to encourage you and help you stay on track with your studies. Early in 2012 when I was training for my first marathon, I really did not want to get out of bed on a 30 degree morning for 17 miles of running. Ugh. But knowing that I had friends waiting for me at the starting line was a great motivator to get up and get moving. The PHR study group works the same way. They are there to offer support and help fill any gaps in your knowledge. An online PHR study group can be a flexible option for those of us with busy schedules, because any tasks are completed in your own time availability, but you can still discuss topics and connect with others via chat, discussion boards, or email. In essence, you can study on your own, but you can also tie into the motivational aspects of knowing that someone else is interested in holding you accountable for your exam performance (in a positive, friendly way). 
Tying it all together
A study group alone won't make you successful, but it certainly can help. You can learn how to pass the PHR exam! If you have the right tools in place (study tools, motivation, and study plan), then you're much more likely to be successful than someone who only has two of the items on that list. Want to know more? Check out the PHR/SPHR Self Study Course to learn more about improving your motivation while preparing for the exam without a study group.