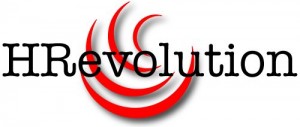 It has been a wild journey, and HRevolution 2009 is in the books. What can I say? It was, quite simply, an amazing experience. I\'ve read plenty of accounts about HR tweetups and HR unconferences, but nothing quite prepares you for what occurs once you arrive. Wait a minute, you don\'t know what an HR unconference is? It\'s basically a conference with much less formality and structure. Instead of being governed by rules and overbearing planners, an HR unconference is more free-flowing and open to the whims of the attendees. While HRevolution wasn\'t as lax as a normal unconference, it still had a lot of flexibility and fun thrown into the mix. Here\'s a quick breakdown of my own timeline surrounding the event. It\'s a weird, rambling version of the events, but I have to untangle it all before I can make sense of anything!
On the Road
I was able to spend a lot of time talking with one of my good friends on the way. I have only known Allen Robinson for about six months, but he is a great guy with some excellent ideas. We have an interesting friendship. I helped him learn the basics of WordPress and start an HR blog, and he throws out HR logos like some sort of machine. Plus, he drove me there. What else can I say about that?
First Meetings
From the moment I met everyone, it was like we were long-lost friends catching up after a hiatus from each other. And after planning this event with a few people for several months, it was quite interesting to finally see them in person!
Shenanigans
Friday night was a lot of fun. We spent time at the Nobscot Tweetup in the lovely Maker\'s Mark lounge, and I tried my best to mosey around and chat with everyone. It was so hard to not get sucked into conversation with each and every attendee.
Kicking Off
I took off on an early Saturday morning run to get revved up for the rest of the day. I took my phone and snapped a few blurry pictures that I would love to share, but you wouldn\'t be able to tell anything from them. :-)
The actual event got rolling around 9:00 am. In a fun gesture, we went around the room introducing people and showing their Twitter profiles up on the screen to let everyone follow them as we went along.
Trish McFarlane and I tried to get the discussion moving by talking about a few of the answers to our pre-event attendee survey, and it definitely took on a life of its own within only minutes. Half an hour later, we were over our time limit and trying to wrap up before the next sessions! I could clearly tell that we had a passionate group of people who were not going to be shy about anything.
Breaking the Rules
I spent the next hour or so running back and forth between the beginner and advanced blogging sessions. I wanted to help in the beginner side if there were any questions raised, but I also wanted to hear what our topic leaders on the advanced side had to say.
I loved how Paul Hebert started out his session by scribbling questions from the audience on a big sheet of paper. Instead of doing the "traditional" thing and talking down to the group, he found out what they wanted from him.
The Calm because of the storm
I heard someone mention around this time of the day that the #HRevolution Twitterstream had really died down from the attendees. At first, I was concerned, because I wanted to keep feeding information to those outside the event, but then I realized something. It wasn\'t quiet because people were bored. It was quiet because people were engaged in their sessions and discussions. I love it.
Affirmation
Throughout the morning, I kept thinking to myself, "Is this thing really happening? Are people liking it?" And while I could ask someone and they could politely lie to me, I didn\'t want to directly attack approach anyone just yet. However, Bonita Martin saved me from that! When I sat down at lunch, she told me that the beginning blogger session she\'d just finished up with was worth the entire trip. Wow! I was too buzzed from that to even try to eat my lunch, but that wasn\'t a problem, because a phone mysteriously appeared in my hand.
HR Happy Hour
Watching Steve Boese and Shauna Moerke tag team on the live HR Happy Hour was such a treat. When Shauna dropped the phone in my hand, I immediately got a verbal beating from Steve for denouncing all the old farts in the audience. For some reason, I started the the day with this (not-so-clever) phrase: "I\'m the youngest person in the room." I\'d just like to say that it came out the wrong way.
I really wanted to say that I was the least experienced person in the room, and although I had helped to plan the event, I desperately wanted to learn from each person in the room. Glad to clear that one up finally!
Small Group, Big Discussion
After lunch we broke up into two groups again. One group headed over to the Sanera Conference room to listen to Jessica at Blogging4Jobs talk about social recruiting. I was worried at first, because Jessica had less than a dozen participants in her room. However, the discussion quickly bloomed into a flurry of ideas and conversations spanning the room.
I learned something interesting from that experience. The smaller group allowed for some deep discussions that couldn\'t have taken place in a larger group. Jessica did an excellent job of keeping things moving along, and I\'m glad I observed that group.
Monsters Abound
In the final discussion on the future of HR and HR strategy, Mark Stelzner was attacking people left and right. If you weren\'t careful, you\'d end up with a monster on your table. Seriously though, we had some excellent giveaways from Eric at Monster, and Mark was rewarding those who participated in the discussion with stuffed animals and other goodies. It was an interesting way to get some participation from everyone in the group.
It\'s a Wrap
I\'ve heard that we didn\'t leave with a clear "call to action." It seemed like something that we as planners had missed, but when I look back now, maybe it was a good thing. This isn\'t a conference where people get all their problems and solutions tied up with a bow. It\'s an HR unconference darn it, and there are bound to be messy endings in that sort of thing.
On the Road (Again)
On the way home, Allen and I discussed the incomplete feelings we had about the event. I spent a lot of time thinking about changes for my own blog, and if you\'ve visited it in the past few days, you know what I\'m talking about. I have some special projects coming up, I have vowed to do more videos, and I really want to look at the core focus of my site and see if I am doing what I should/could be.
I\'ve read a lot of accounts from other attendees so far, and I think a unanimous statement has been this: it\'s not a quick-fix, super-easy problem we\'re addressing. It will take time. But you want to know something interesting? I think that if we can get our amazing online HR community to participate in the change process, we could do some great things. But that\'s a post for another time!