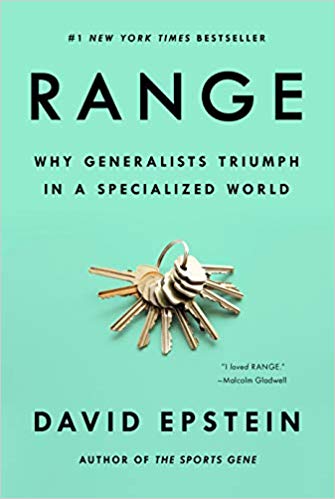 I'm a generalist. While I specialize in my career field as a writer, speaker, and researcher, I have to use a wide variety of muscle memory to make that happen (for instance, the skills that help you dig into a large set of data are different than the skills it takes to share that data from the stage).
And in an increasingly specialized world, generalists win.
This is the thesis of the book Range: Why Generalists Triumph in a Specialized World.
(Note: If you like HR book reviews I have done dozens over the last ten-plus years!)
The book is a long one, but it has so many great findings and scientific insights into what powers human performance. Plus it busts some of the key myths we all have come to believe, like "if you want to be great at something you have to specialize as early in life as possible and never do anything else," which the author calls the Tiger option (after Tiger Woods, the legendary golfer that started playing before age five).
Six Key Ideas I Loved